Heavy Duty Balancer Chuck
Kit includes heavy duty plate and wrench key
Kit Part # HD 90040BK (40 mm shaft)
Kit Part # HD 90050BK (2.0" shaft)
Heavy Duty Chuck:
part # HD 90040 (Coats part # 85009088) 40mm Shaft

Heavy Duty Plate:
part # PL-HD 90040 (Coats part # 85009089) 40mm Shaft

Heavy Duty Chuck:
part # HD 90050 (Coats part # 85009086) 2.0" Shaft

Heavy Duty Plate:
part # PL-HD 90050 (Coats part # 85009087) 2.0" Shaft
Wrench Key:
part #HD90044


Exclusive Heavy Duty Three Jaw Chuck eliminates the need for cones with three massive expanding jaws.
Three pieces do the work of many with a range that covers center hole diameters of 5.375"- 11.0"
The Balancer Chuck centers itself in the wheel, so an accurate mounting is achieved compared to a steep cone set-up, making it easier for the technician to assure a balanced wheel.
The Balancer Chucks centering accuracy as well as vertical stability supports wheel while clamping and unclamping.
Kit includes: 3 Jaw Balancer Chuck, 12" backing plate, and wrench key.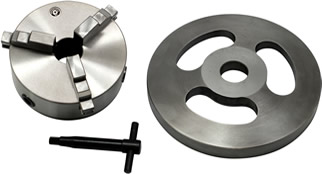 Part # HD 90040BK (40 mm shaft)
Part # HD 90050BK (2.0" shaft)