Double Chuck Adapter
Brake Service Solution

Problem: The growing number of adapters required to mount hub less rotors and drums through 1-ton vehicles.
Because of the large range of center-holes sizes on rotors and drums, adapter sets must contain numerous centering cones.
It takes time for a technician to select the proper cone and clamping cup combinations.
Centering cone sets require a significant amount of storage space.

Solution: Double Chuck Adapter - U.S. Patent No. 6,601,485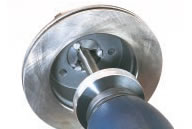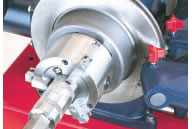 Rotors
Part#80040 (Ammco Part# 940921)



Ammco's exclusive Double Chuck has an "Auto" side and a "truck" side. Now if you want to machine up to 1-ton truck drums and rotors, there are no jaws to change or pieces to lose, just flip the chuck over to the "Truck" side and you're ready to go. One simple kit is all you need!

(Sold exclusively through Hennessy Industries with our U.S. Patent No. 6,601,485, contact your local AMMCO dealer.)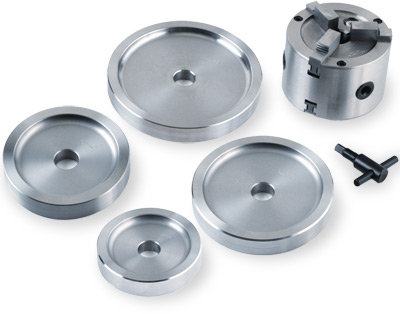 Part#80040K (Ammco Part#940921)

Kit Includes:
Double Chuck Adapter, part #80042 (5"diameter double sided chuck)
Small Backing Plate, part #70047 (4-3/4" diameter)
Medium Backing Plate, part #70043 (5" diameter)
Toyota Backing Plate, part #70054 (6-1/4" diameter)
Large Backing Plate, part #70046 (7-1/4" diameter)
Wrench, part #70044 (3/8" drive)
Features:
Ammco's exclusive Double Chuck Kit has 2 sets of concentric, expanding jaws to grip the center-hole and eliminate the need for cones.
Passenger car jaws are permanently mounted on one side and truck jaws on the other side No need to change jaws out.
Fits all popular 1" arbor brake lathes.
Handles virtually all hub-less drums and rotors (including composite) through 1 ton vehicles (Range: 2.125"- 5.75").
Choose from only 5 pieces to store and maintain.
The weight and mass of the Double Chuck with Backing Plate virtually eliminates chatter and vibration from all hub-less applications, including composite drums and rotors.
75% fewer pieces means less maintenance and minimal replacement costs. Eliminates run-out and set-up problems with its self-centering feature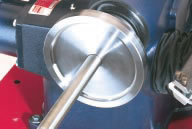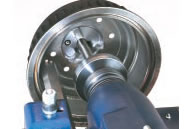 Drums
(Sold exclusively through Hennessy Industries with our U.S. Patent No. 6,601,485, contact your local AMMCO dealer.)