Balancer Chuck
Tire Service Solutions
The simplest, fastest and most efficient way of adapting truck wheels to your balancer. The 3-Jaw Chuck design offers dead-on centering accuracy along with quick and easy set-up. Fits most Hub-centric wheels with flat faced mounting pads with a wide range, 3.13" to 7.13", makes the 3-jaw chuck a versatile tool.
Part # 90040BK Chuck Kit: 40mm Shaft
Part # 90028BK Chuck Kit: 28mm Shaft
Kit Includes:
3-Jaw Chuck Adapter for specified shaft size
Clamping Cup with Protector Ring for specified shaft size
Ratchet Key (For use w/ Ratchet or Air Ratchet)
Advantages:
The Balancer Chuck centers itself in the wheel, off the balancer, so weight is not a factor when mounting the assembly onto the balancer shaft.
An accurate mounting is achieved compared to a steep cone set-up, making it easier for the technician to assure a balanced wheel.
The Balancer Chucks centering accuracy as well as vertical stability supports wheel while clamping and unclamping.
No more cones, the 3-jaws cover a wide range of center hole sizes
Ratchet Key fits 3/8" drive ratchet or air ratchet to tighten and loosen jaws.
In most clamping applications there are no additional spacers required.
Fits most brands of wheel balancers*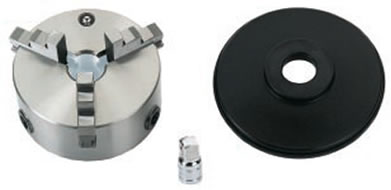 Option: Extended Jaw Set for Balancer Chuck increases center hole size range up to 9.125"
Part# 90041 Extended Jaw Set





*Additional Kits available for other brands of wheels balancers
Part# 90038BK Balancer Chuck Kit: Balancer with 38mm shaft.
Part# 90036BK Balancer Chuck Kit: Balancer with 36mm shaft.
Part# 90030BK Balancer Chuck Kit: Balancer with 30mm shaft.
U.S. Patent No. 5,224,303